Custom earmolds are an important component of Behind-The-Ear and some Receiver-In-Canal style hearing aids.
Earmolds come in various styles to accommodate for different kinds and degrees of hearing loss. They can be invisible, and they are also available in a wide range of fun colors and glitter options. At your appointment, our specialist will determine the correct material and style of earmold for your needs, and take an impression or 3D scan of your ears.
---
shop now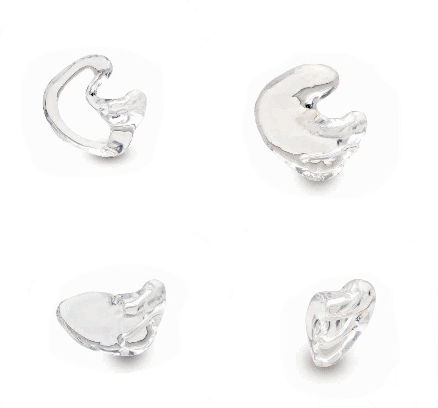 What to expect when getting your impressions taken:
After a quick visual examination of your ears, we will determine whether we will be scanning your ears with our 3D ear scanner or if we will be making silicone impressions. This depends on the size and shape of your ear canals as well as if any earwax is present.

We then send your scans/ impressions to the manufacturing lab for production.

Custom earmolds typically take 5-10 business days to make. Rush options available.
Hearing Aids and hearing services serving Portland, Oregon and Vancouver, Washington
Our office is located in SE Portland, Oregon, but we serve patients from a wide region including the Greater Portland area (Gresham, Happy Valley, Oregon City, Clackamas, Milwaukie, Beaverton, Tigard, Hillsboro) and the Greater Vancouver, WA area (Felida, Fruit Valley, Hazel Dell, Cascade Park, and Camas).