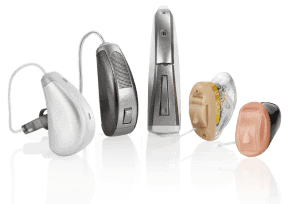 At Mt Hood Hearing, the style of the hearing aid does not determine its price. For instance, a small invisible hearing aid can be the same price as a large behind-the-ear device if the computer inside them is within the same technology level.
Our hearing aids are priced per unit ranging from around $1,000.00 to $3,000.00 and come in four technology levels: Essential, Standard, Advanced and Premium. The level that would be suitable for you is determined by your lifestyle and hearing needs. 
Essential technology is the most affordable and would be recommended for someone who lives a more quiet life, while Premium technology is the most expensive, and  features the latest in automatic adaptation in multiple challenging listening environments. It is intended for those living a more active lifestyle.
Included in the price is a 3-year comprehensive warranty which covers all your follow-up care, yearly hearing tests, parts, repairs, batteries (if applicable) and all supplies in order to keep your devices in top shape.
The price of hearing aids can vary significantly from one provider to the next. Much of what you pay for when you purchase a hearing aid is the expertise and knowledge of the person who is programming and fitting it. A hearing aid by itself has no value to you if it has not been programmed and fitted properly to match your current needs, even if you have purchased the most expensive one. 
After you buy hearing aids, your ongoing follow-up care is also crucial to your continued satisfaction. For all of these reasons you may see cheaper hearing aids online, they are simply missing all of the important aspects that you would have to then pay a professional for in order to make them work for you.
Hearing Aids and hearing services serving Portland, Oregon and Vancouver, Washington

Hearing Aids and hearing services serving Portland, Oregon and Vancouver, Washington

Our office is located in SE Portland, Oregon, but we serve patients from a wide region including the Greater Portland area (Gresham, Happy Valley, Oregon City, Clackamas, Milwaukie, Beaverton, Tigard, Hillsboro) and the Greater Vancouver, WA area (Felida, Fruit Valley, Hazel Dell, Cascade Park, and Camas).