Hearing Aids Repair
Hearing aids are sensitive instruments that require some care and attention. They spend most of their days in the inhospitable environments of our ear canals, where they are inundated with moisture and earwax. Even with regular cleaning and maintenance, just about every set of hearing aids will need to be repaired every so often. 
At Mt. Hood Hearing, we are more than up to the task, with a full staff of experts ready to make the necessary repairs to get your hearing aids working good-as-new again!

All Manufacturers' Warranties
We are proud to honor all manufacturers' warranties, even if you purchased your hearing aids from a different retailer. A hearing aid manufacturer's warranty is typically 1–3 years long and covers material and manufacturing defects. We are happy to check the status of your warranty before proceeding with repairs.
Ask About Our Hearing Wellness Plan (HWP)
All of the new hearing aids we sell come with worry-free service and repair for 3 years. Given that the lifespan of hearing aids can be anywhere from 3-7 years or more, depending on a number of factors, we offer our Hearing Wellness Plan (HWP) that extends the warranty on service and repair. Should an issue arise while your hearing aids are not covered by the manufacturer's warranty or our HWP, our regular repair fees apply. (See below.)
Where most large companies will refuse service on hearing aids when the warranty has expired, we offer repair services for any hearing aids that are in reasonable shape. Talk to us today about our HWP to keep your hearing aids working great for their whole lifespan.
We repair most makes and models of hearing aids.

Every repair we complete is automatically covered by a 6-month warranty, with the option to upgrade to a 1-year warranty.

Our repairs can be completed in 5-10 days in most cases.

We offer rush repairs for an additional fee.
Our regular prices for hearing aids outside of warranty are:
$325.00 for hearing aids 5 years old or under (per hearing aid)

$425.00 for hearing aids older than 5 years (per hearing aid)
While many repairs can be completed in house, sometimes we need to acquire specific parts or send the hearing aid to the manufacturer in order to take advantage of the warranty, which is why it may take up to 10 days to complete the repair. If you need your hearing aids faster, talk to us about our rush service. For an additional fee, we can have parts shipped more quickly which allows the repair to be completed faster.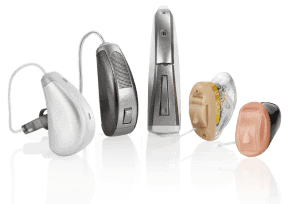 Cleaning
Has the sound quality of your hearing aids noticeably degraded, or are you having trouble hearing with them even though they seem to be working? It could be that a thorough cleaning would help them function as good as new again. Sometimes a professional cleaning can get earwax and accumulated dirt out of the sensitive microphones and speakers in your hearing aids. In some cases, the process of cleaning might reveal that a repair is also necessary.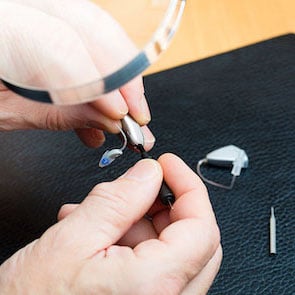 Repair or Replace?
Hearing aids are sensitive instruments that spend most of their time in the less-than-ideal environments of our ear canals, and they cannot be expected to last forever. Different people have different ear canal environments. Some people have minimal, dry earwax, which may allow their hearing aids to last for many years with very little wear and tear. Other people produce a lot of moist earwax, which can reduce the lifespan of a set of hearing aids significantly.
The amount of perspiration that a set of hearing aids encounters will also have an effect on lifespan, where sweat can start to break down plastic and rust sensitive metal components. Exercise and outdoor work is highly encouraged for health and well-being, though it can take a toll on hearing aids over time. While repairs are a great option much of the time, sometimes it's worth considering whether a new set of hearing aids makes more sense.
New models of hearing aids are released regularly with significant performance upgrades over previous models. If your hearing aids are older than 5-7 years and in need of repair, it may be worth considering purchasing a new set. 
Talk to us today about the options available and what might make the most sense to keep you hearing your best going forward.
Hearing Aids and hearing services serving Portland, Oregon and Vancouver, Washington
Our office is located in SE Portland, Oregon, but we serve patients from a wide region including the Greater Portland area (Gresham, Happy Valley, Oregon City, Clackamas, Milwaukie, Beaverton, Tigard, Hillsboro) and the Greater Vancouver, WA area (Felida, Fruit Valley, Hazel Dell, Cascade Park, and Camas).